White Label Payment Gateway
Akurateco provides a PCI DSS certified white label payment gateway to enable smooth payment processing for payment service providers, ISOs, and acquirers.
Merchants' management system
Smart routing and advanced antifraud
Fast integration and variety of connectors
Choose from over 170 connectors. Fast and competitive new integrations.
Personalized approach to every client
Get access to payment methods and integration types based on your needs.
State-of-the-art security solutions
Combine fraud prevention tools with advanced data analytics for better security and conversion.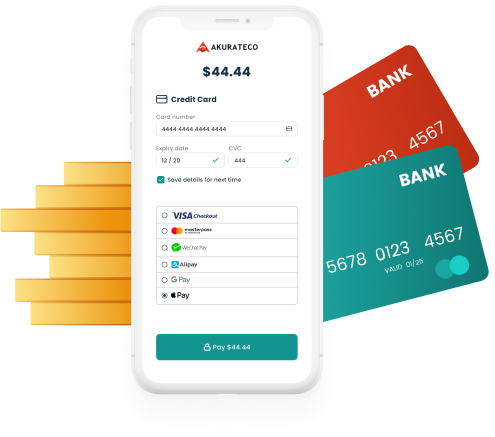 PAYMENT PLATFORM
Akurateco's payment platform is offering electronic payment solutions for online goods and services. From credit card processing to alternative payment methods, Akurateco is a global solutions for your high risk and low risk merchants.
White Label Payment Gateway
Launch your payment processing business immediately with zero development cost
Payment Orchestration Platform
Manage all your payment gateways in one back office using advanced analytics tools.
Tokenization & Credit Card Vault
170+ connectors ready to use
Fast integration and customization
BUSINESS INTELLIGENCE
DATA MANAGEMENT
Akurateco's data management solution turns fragmented, contradictory and repetitive sources of data into trusted sources of consolidated information, so your business can be more responsive and confident in daily decisions.
BILLING AND SMART INVOICING
Capture more revenue with our top-of-the-industry technologies allowing to set customizable fees for each individual payment action. Enjoy full customization of fees based on the transaction amount, currency, acquiring bank, transaction type, etc.
FRAUD PREVENTION
Akurateco's advanced risk management system utilizes both in-house and external scoring models to detect, analyze, and prevent potentially fraudulent transactions
Blacklists to flag and immediately block transactions based on specific parameters (BINs, IPs, email addresses, etc.)
Leverage AI for fraud and chargeback prevention
PAYMENT ROUTING
With our top-notch payment routing system you can enjoy an increased conversion and decreased decline rate.
Get started with white label payment gateway
Akurateco has 15+ years of experience in credit card processing. Benefit from its highly customizable solutions!